2019 Tunnel to Towers 5K Run & Walk – Savannah, GA
September 7, 2019 @ 8:00 am

-

10:00 am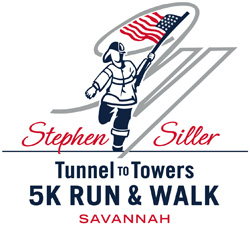 What is a Tunnel to Towers 5K Run & Walk?
The Tunnel to Towers 5K Run & Walk Series was created to honor the heroic life and death of Stephen Siller, a New York City firefighter (FDNY) who lost his life on September 11, 2001, after strapping on his gear and running through the Brooklyn Battery Tunnel to the Twin Towers.
Honor all of those who lost their lives on September 11, 2001 and support our first responders and military who make extraordinary sacrifices in the line of duty! For more information on the Stephen Siller Tunnel to Towers Foundation please visit http://www.tunnel2towers.org
How far is the Tunnel to Towers 5K Run & Walk – Savannah?
The Tunnel to Towers 5K Run & Walk – Savannah is a 5K (3.1 miles). You are welcome to walk or run this event.
Can I get a timing chip?
Yes, your timing chip will be distributed with your packet at pickup.
How much does registration cost?
Before March 31st (early bird): $30 general registration;
April 1 – July 4: $35 general registration;
July 4 – September 4: $40 general registration
Active Military and First Responders: $30 at all times (ID Required)
Children 7-17 years of age: $25 at all times
Children 6 and under: FREE
September 5th (Thursday) and 6th (Friday, packet pick-up) $45 at Fleet Feet Sports Savannah (3405 Waters Ave Savannah, GA 31404);
Race day $45 at event
Can I register the day of the run?
Yes. Registration on the day of the run will be $45
Will promo codes be accepted after they have expired or online registration has ended?
No. We cannot accept any special promo codes that you have received after they have expired or after online registration has ended.
When does online registration close?
Online registration will close on Wednesday, September 4th at 11:59 pm.
What are the award categories?
Tunnel to Towers Run & Walk Savannah has over 100 awards for the following categories: Male Overall, Female Overall, Male Masters (40+), Female Overall (40+), Male/Female 1st, 2nd, 3rd Place for the following age groups: 1-9, 10-14, 15-19, 20-24, 25-29, 30-34. 35-39, 40-44, 45-49, 50-54, 55-59, 60-64, 65-69, 70-79, 80-99…and The Siller Cup to the fastest fire department team (must register your F.D. team).
What is the age limit?
There is no age limit! Children under 6 can run for free but it must be processed through registration and they must be accompanied by an adult. Children under 6 (free) are not eligible for a T-shirt.
Ages 7-99 can register at the stated prices.
Is there transportation to and from the event?
No, we do not provide transportation to and from the event.
Is there parking available?
There is ample parking available in downtown Savannah.
Where/When can I pick up my packet?
You may pick up your packet at Fleet Feet Sports Savannah (3405 Waters Ave Savannah, GA 31404) on Friday, September 6th between 10:00am and 6:00pm. You may also pick up your packet on the day of the race (t-shirts based on availability).
Can someone else pick up my packet for me?
Yes, they can. They must present a copy of your registration receipt. And don't forget to thank them!
Do I have to wear my bib number?
Yes, please display your bib on the front of your outermost garment – your chip is part of the bib and will help indicate your race time and your identity.
I am a fast runner; can I get a front line position?
Runners predicting a faster pace may make their way to the front of the line, based on space availability (hint: arrive early!).
Will water be available?
Yes, water will be available at the 1.5 mile mark and again at the finish.
Can someone join me on my run without registering?
No. All runners are required to register and sign a liability waiver.
What can you bring to the event?
We are not responsible for anything you bring to the event. Please secure items with you, in your vehicle or leave with a spectator you're accompanied with.
Can I run with a stroller, backpack, wheelchair, roller blades, bicycle, etc?
You can participate with a stroller, wheelchair, and/or backpack. No roller blades or bicycles.
Can I run with my pet?
We ask that pets be secured on a leash and that if you are running with them, that you give priority to runners when at the starting line. You are responsible for their actions and to clean up any mess they leave on the course.
If I have a backpack, what do I do with it?
It is the participant's responsibility to secure any/all items at their own risk.
If I win an award and am not present for the award ceremony, where can I pick it up?
For the week following the event, medals will be available at Fleet Feet Sports Savannah (3405 Waters Avenue, Savannah, GA 31404). Please present proper identification to claim your award.
Can I still donate to a team and/or individual after the start of the race?
Yes. Donations will be accepted for 6 weeks after the event.
How can my company/organization sponsor this event?
Please send all sponsorship correspondence to [email protected] with your contact information and someone will be in touch with you within 24 hours.
What does a corporate sponsor receive?
Based on the level of financial commitment, sponsors are able to receive a fabulous package of promotional opportunities, prominent logo placement, registration passes, and a chance to align your company's name with a top event in the Savannah community. Contact us at [email protected].
I would like to donate goods or services to this event. How do I do that?
Thank you. Contact us at [email protected]. We make every effort to keep costs down to allow us to give the most to the Tunnel to Towers Foundation in Stephen Siller's name. Your generosity will be greatly appreciated.
As a participant, can I fundraise/encourage others to donate?
Yes! Once you are registered, you will be given directions to start your own fundraising page and you will be able to accept donations online. Do you want to donate cash/money? We can help you with that. Contact us at [email protected] and we can walk you through the process or you can send donations directly to T2T Savannah, P.O. Box 335, Pooler, GA 31322 – please give us your information so we can add it to your fundraising bottom-line. It's easy!
Does my registration fee count towards my fundraising goal?
Registration fees help offset some of the expenses associated with making the Tunnel to Towers 5K Run & Walk one of the country's greatest annual events, however your fundraising efforts enable us to continue to make a difference in the lives of so many in need. So, no. But…
To show our appreciation for your time, passion, and effort, we recognize each fundraising milestone that is reached with an incentive item branded with the Tunnel to Towers logo.
What are the fundraising levels & prizes?
Prize tiers and info are coming soon. Note: You will receive your fundraising incentive/prizes by mail after the event.
Can I get a refund? Can I transfer my registration?
Unfortunately, all sales are FINAL and we do not allow refunds. However, you may transfer your registration to another participant. For instructions on how to transfer your registration please click here.
How can I volunteer?
It's simple! Click on the volunteer option while above and enter your information to sign up. Thank you!
What is the Siller Cup?
The Siller Cup is an award given to the fastest registered participant fire department team. The group must consist of all firefighters in a team of 5 members or more. This is a rotating award – each team gets to keep the Siller Cup for 1 year, has their name engraved on the cup with the year and then returns with it next year to defend it.
How does my firefighter company team register for the Siller Cup?
First, make sure that every team member has officially registered at the First Responder rate and please send those names (5 or more) to [email protected] so we can identify those individuals to our timing company. You must be a firefighter to participate.
Do registrants get receipts?
When you register online you should automatically receive a receipt. If paying by credit card or check that is your receipt. Once you have securely registered online or at Fleet Feet Sports Savannah, your name and all the information you have entered is on the participant list.
Is there a special discount for large teams?
If your group has 20 or more interested participants and you would like to inquire about a discount, please contact us at [email protected] and we will field each request.
I am interested in my son/daughter taking part in the special tribute to the 343 FDNY firefighters lost in the line of duty on 9/11 being held at Forsyth Park. How can I get them involved?
At Tunnel to Towers 5K Run & Walk Savannah, we call this VERY important group "TEAM 343" and we would be honored if your child, organization, school class, or sports team can participate. Our goal is to have at least 343 of Savannah's youngest participate in this extraordinary event.
Select the volunteer option on this website and mention "Team 343" and we will get you started. You can also contact [email protected]. In exchange for participating and upon returning any equipment used, we will issue a commemorative patch to each member of Team 343 as our way to say thank you.
I am a uniformed firefighter or active soldier; I would like to be part of the ceremonies to honor all of our bravest. How do I get involved?
Sign up with us by selecting the volunteer option on this website – let us know that you are interested in participating! You can also send us a message at [email protected]. You will be directed from there.
We are a group of cheerleaders, team players or a musical band and we would like to participate – can you tell us how?
Sign up by selecting the volunteer option above and tell us your idea!! You can also send us a message at [email protected]. We'd love to have you involved!
Is there a medical staff available on-site?
Yes, there will be an Emergency Medical Service team available on site. There is also radio communication available on the course to help communicate with the EMS.
Note: if you have questions, want to volunteer, want to sponsor, or you have a special connection to September 11, 2001 or a story you want to tell us, please feel free to send a message to our Facebook page https://www.facebook.com/T2TSavannah. We are a community that is committed to never forgetting September 11, 2001 and honoring all of the heroes: our first responders and our military.
Never forget. Honor 9/11. Let us do good.
God bless America.